See Terms and Conditions for pricing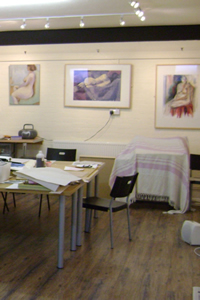 Contact us on 07766 111 974
Life Class Weekend Workshops
Typical Schedule
Saturday
| | |
| --- | --- |
| 9.45am | Meet at the studio |
| 10.00am | Workshop commences with quick response warm up drawings |
| 10.30am | Coffee served |
| 12 noon | Light Lunch |
| 1.00 pm | Afternoon session commences |
| 2.00 pm | Refreshments |
| 2.15 pm | Return to Session |
| 3.30 pm | Group discussion / question and answer session |
| 4.00 pm | Workshop concludes for the day |
Sunday
| | |
| --- | --- |
| 9.45am | Meet at the studio |
| 10.00am | Workshop commences |
| 10.30am | Coffee served |
| 12 noon | Light Lunch |
| 1.00 pm | Afternoon session commences |
| 2.00 pm | Refreshments |
| 3.30 pm | Group discussion / question and answer session |
| 4.00 pm | Workshop concludes for the day |
The classes are designed to be relaxing and comfortable. Life class workshops are open to all abilities. The more experienced artist may prefer to use the weekend as an atelier class with access to a professional life model.
For those who need guidance, teaching will be on hand in an informal atmosphere.
Basic drawing materials and paper will be provided. Drawing pack includes willow charcoal, box of assorted compressed charcoal, putty rubber, pencils and graphite stick. The materials and paper are of a high quality.